Similar to your car or your own body, it is important that furnaces and air conditioners receive regular check-ups and maintenance. To save on utility bills and emergency service calls, we urge you to take a preventive approach to heating and cooling by receiving regular tune-ups. That's why we offer an HVAC inspection and maintenance program for our loyal customers at Rohde Air Conditioning & Heating!
Whether you have a brand new HVAC system or have much older equipment, routine maintenance is equally important in both cases. When you have your HVAC system serviced regularly, you'll ensure it remains running smoothly while helping prevent breakdowns and saving money on costly repairs and energy bills.
Why Should You Sign Up for an HVAC Maintenance Plan?
Most HVAC manufacturers recommend regular HVAC maintenance for a variety of reasons. In fact, it's not uncommon to find that a manufacturer's warranty is contingent upon proper maintenance. Not only this, but preventive maintenance of your air conditioning and heating systems are also recommended by all HVAC companies, the Public Utilities Commission of Texas, and even federal agencies such as the Energy Star program of the EPA and DOE.
Do you know why this is? For starters, routine HVAC maintenance can help you save tons of money in the long run. This is because it leads to lower utility bills and the need for fewer AC and heater repairs and system replacements down the line. Below are some of the key benefits of signing up for an annual maintenance plan: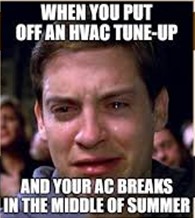 Your HVAC systems will function more efficiently
It consumes less energy and SAVES YOU MONEY!
Properly maintained systems last longer and operate more reliably
Timely maintenance helps to eliminate untimely breakdowns
You can relax knowing your AC unit/heat system is tuned up and ready for the hard work
Improved

indoor air quality

Peace of mind
10% Parts & Labor Discount
No After-Hours Overtime Rates
15% Parts & Labor Discount
SILVER LEVEL ♥
$175 for 1st system
$100 for each additional system
GOLD LEVEL
$260 for 1st system
$125 for each additional system
PLATINUM LEVEL
$350 for 1st system
$175 for each additional system
Here's some of what you get when you join the Rohde Cool Club:

Front of the Line VIP Scheduling
Should an emergency arise with your heating or air conditioning systems, you will receive priority scheduling at no additional cost during business hours.

Spring/Summer AC System Maintenance Visit
We perform a 30-point inspection and tune-up an ALL your Air Conditioning systems, no matter how many!

Fall/Winter Heating System Maintenance Visit
Rohde Air Conditioning and Heating licensed technicians run a 29-point inspection and tune-up on ALL your Heating systems.

Automatic Scheduling
Rohde Air Conditioning and Heating will track your HVAC system maintenance visits and contact you to schedule them.
Become a Member of the Rohde Cool Club Today!
By signing up for the Rohde Cool Club today, you'll be sure to stay on top of your annual tune-ups in the future. We'll help you remember when important services are due and plan a timely service appointment to evaluate your AC system just as you're getting ready for the heating and cooling season's peak.
To learn more about our HVAC maintenance plans, or to become a member of the Rohde Cool Club today, give us a call at (254) 939-COOL (2665). You may also complete our online service request form. We look forward to hearing from you!