Duct Cleaning for Superior Air Quality
Improve your indoor air quality and reduce the need for costly repairs with expert duct cleaning services from Rohde Air Conditioning and Heating. We use a special Rotorbrush unit with an advanced filter bag design to ensure that our customers enjoy a higher level of clean. We use this technology to thoroughly and meticulously clean heating and cooling vents and lint-laden dryer ducts.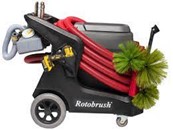 Why You Need Your Ducts Professionally Cleaned
Ducts accumulate dirt and debris naturally over time from the routine use of comfort equipment and vented appliances like dryers. If you neglect your ducts, however, your heating and cooling equipment will have to work harder to compensate for blockages. This is also true when you use your dryer. Even if you routinely remove lint or clean your filters, dust and debris can gather in difficult-to-reach areas and continue to accumulate.
Signs suggesting you need your HVAC or dryer ducts cleaned include:
Registers and vents with visible dust
Seeing mold around your HVAC system
Uneven airflow in various rooms
Noises coming from your ductwork
Clothes taking longer than usual to dry
Ducts & Dryers Cleaning Service
We also suggest taking advantage of our duct maintenance and cleaning services if you can't remember the last time your ducts were professionally cleaned. Our friendly, knowledgeable technicians will take the time to explain the process and do the job properly.
How We Expertly and Thoroughly Clean Ducts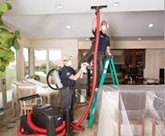 We use state-of-the-art Rotorbrush cleaning units to clean ducts and deliver the results homeowners and business owners expect and deserve. These units work by rapidly spinning at 450 RPM and sucking up debris that includes dirt, mold, bacteria, and other potentially harmful materials in your air ventilation shafts. The filter bag on these units is also capable of collecting larger amounts of debris without losing suction, which prevents gathered debris from being redeposited in your ducts.
Why Clean Ducts Make a Difference
According to the Environmental Protection Agency (EPA), indoor air can be more polluted than outdoor air! By turning to the experts from Air Pros, you'll enjoy improved interior air quality thanks to ductwork that's cleaner and able to deliver cleaner, healthier air throughout your inside spaces. Cleaner ducts can also be beneficial if you have issues with allergens or respiratory illnesses.
When trained technicians meticulously clean dryer ducts, you'll have a dryer that works more efficiently. Even more importantly, clean dryer ducts reduce the risk of dryer fires caused by lint that's trapped deep within ducts. Cleaner ducts can also contribute to:
A pleasant indoor living environment
Fewer issues with unpleasant or lingering odors
Better airflow efficiency
Reach Out to the Rohde Air Conditioning & Heating Team Today.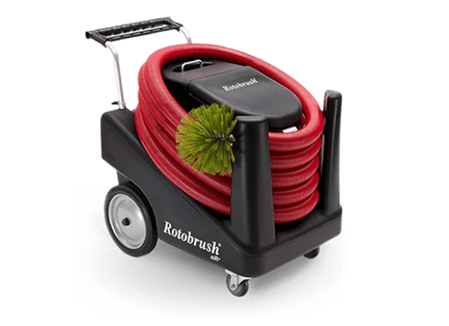 Welcome to the Future of Duct Cleaning
The Rotobrush aiR + XP to a new level in duct cleaning services. This rotobrush spins and sucks up all that nasty debris, dirt, mold, bacteria, and other buildups in your air ventilation shafts.
When you need your ducts cleaned in any of our service areas, you deserve to have a deeper level of clean than what's possible with traditional methods. This is exactly what you can expect from Rohde Air Conditioning & Heating, thanks to Rotobrush technology and the Rotobrush equipment we use for duct cleaning. We use this powerful, innovative equipment to remove dirt and debris that's in air ventilation shafts, even in places not easily accessible. What you'll be left with are ducts cleaned in a way that improves function and indoor air quality.
What Is Rotobrush Duct Cleaning?
The Rotobrush is a piece of equipment designed to leave you with ducts that are clear, clean, and capable of safely delivering or transferring air. The device works by inserting the brush inside the duct that needs cleaning. The attached brush rotates rapidly at 450 rpm. This rapid spinning also generates strong suction, which allows the machine to hold onto debris so it can be properly and fully removed.
When Should You Consider Rotobrush Air Duct Cleaning?
Over time, ducts can become cluttered with debris. Air conditioning and furnace ducts can also become contaminated with potentially dangerous mold and bacteria, which can have an effect on indoor air quality. Even though your HVAC system does have a filter, not all dirt and debris are blocked or collected by it. Accumulated dust and debris can also make your heating and cooling equipment work harder to achieve the desired indoor temperature.

LOOSENS DIRT & MOLD
The accelerated spin cycle quickly loosens dirt and debris, allowing the vacuum to easily scoop up dirt.

SUCKS UP DEBRIS
These outsized beasts offer a 90% increase in vacuum power, removing even the heaviest dirt and mold build up in residential properties.

450 RPM SPIN CYCLE
With an additional 15 feet of hose, we can tackle any ductwork while a rotating brush rotates at 450 rpm. Dirt has no chance against these machines.
We recommend scheduling duct cleaning that involves the use of Rotobrush equipment if you notice any of the following issues:
More dust around your home
Increased allergy-related symptoms
Unusual odors coming from your ducts
Higher utility bills from HVAC equipment working harder than it has to

The Benefits of Rotobrush Technology for Homeowners
One of the most appealing benefits of the Rotobrush equipment our trained technicians use is that it leaves your ducts cleaner than what's typically capable with other cleaning methods. This is possible because the accelerated spin cycle loosens up more dirt and debris.
The Rotobrush machine produces a 90 percent boost in vacuum power! The result is the full removal of dirt, debris, and mold buildup. The rotating brush does even more work by loosening whatever is in your ducts so it can be sucked away. A thorough duct cleaning that involves Rotobrush equipment can also offer benefits that include:
Healthier indoor air
Fewer issues with allergies or respiratory illnesses
An air conditioner, furnace, or combination HVAC system that works more efficiently
Reduced dust accumulation throughout your home
Don't Experience Dirty Ducts, Contact
Rohde Air Conditioning & Heating
to Experience the Power of Rotobrush Duct Cleaning
Call Rohde Air Conditioning & Heating Today for All Your Heating and Cooling Needs.
Rohde Air Conditioning & Heating has the staff and equipment to get the job done right. Call today at (254) 939-COOL (2665) or request service online.